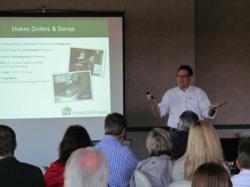 Sacramento, CA (PRWEB) April 06, 2012
Comstock Mortgage led an innovative educational seminar for Real Estate Agents April 4, 2012 at Arden Hills Wellness Resort & Spa. The seminar generated a full house and was well attended by many of the areas top real estate and home loan professionals.
The topic, renovation ready loans, also known as 203k, was designed to help arm real estate agents with a more thorough understanding about the process of obtaining these loans to help their clients purchase the home they want and remodel it into their dream home.
Despite general knowledge about the 203k program itself, many questions emerged regarding how these loans are completed and the actual process of closing a 203k loan. Comstock Mortgage was able to answer these questions and many more during the hour and